▶Excerpt from the 2022 edition of the Standard Specifications for Mechanical Equipment Repair and Maintenance Work of the Ministry of Land, Infrastructure, Transport and Tourism
▶ Japan Copper Center Standard JCDA 0012
JCDA 0012 is a plan for mechanical pipe fittings for refrigerant established by the Japan Copper Center. Our fireless joints, mechanical joints for air conditioning refrigerant piping, are certified by the Japan Copper Center and conform to the Standard Specifications for Refurbishment Works of the Ministry of Land, Infrastructure, Transport and Tourism.
Airtightness safety and workability coexist
【Reliability】
➤No loose ends! No leakage! Safety design
The maximum working pressure of refrigerant gas is 4.3 MPa. Furthermore, the safety design prevents gas leakage and pipe disconnection even when the joint is subjected to 6 times the pressure of 25.8 MPa.
➤Excellent durability
The metal seal system provides excellent durability against heat and oil, without the risk of deterioration over time that occurs with resin or rubber seals.
➤Resistant to bending
Bending tests have been conducted under the assumption of harsh installation environments to confirm its resistance to bending.


➤Non-rotation
The copper pipe does not rotate when the nut is tightened, so the fireless joint will not loosen after installation.

【Construction support】
Installation support" is adopted for safe and secure piping work.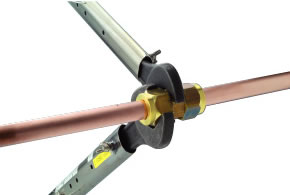 Fireless joints are subject to an "installation course" and "a registration system for properties where fireless joints are used" to prevent refrigerant leakage accidents due to installation errors.
A certificate card is required for use.