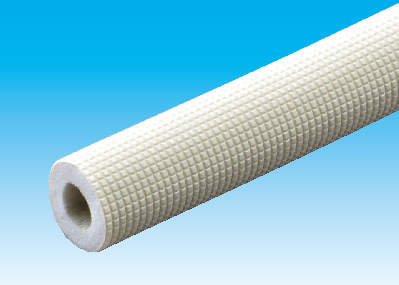 E103-00001
【PME】INSULATION COVER FOR COPPER PIPE
Features
Insulation material with emboss film, but without slit treatment.
Insulation material is chemically cross linked quality product with thermal resistance up to 120℃.
Same embossed outer covering as our Paircoil and Neocoil is used which is strong against damage. Identified installation can be realized as insulation cover at connection part of copper pipe.
Embossed surface of outer covering prevents from slipping at taping work of non-adhesive tape.
Due to chemical cross-linked construction, our insulation will keep insulation performance stable without a deterioration by such as water or moisture absorption which is occurred on rock wool and glass wool.
Details
| Code number | Model number | Applicable copper pipe size(mm) | Applicable Vinyl pipe(mm) | Insulation I.D. (mm) | Length | Applicable copper pipe size(inch) | Applicable Vinyl pipe(inch) | Insulation inner diameter(inch) | Length |
| --- | --- | --- | --- | --- | --- | --- | --- | --- | --- |
| 60874016020 | PME-07-08 | 6.35 | - | 7 | 2 | 1/4 | - | 3/8 | 78 3/4 |
| 60874016030 | PME-10-10 | 9.52 | - | 10 | 2 | 3/8 | - | 1/2 | 78 3/4 |
| 60874016040 | PME-13-10 | 12.7 | - | 14 | 2 | 1/2 | - | 5/8 | 78 3/4 |
| 60874016050 | PME-16-10 | 15.88 | - | 17 | 2 | 3/4 | - | 3/4 | 78 3/4 |
| 60874016060 | PME-20-10 | 19.05 | VP-13 ←呼び径です | 21 | 2 | 3/4 | VP-13 ←呼び径です | 7/8 | 78 3/4 |
| 60874016070 | PME-22-10 | 22.22 | VP-16 | 23 | 2 | 7/8 | VP-16 | 1 | 78 3/4 |
| 60874016080 | PME-26-10 | 25.4 | VP-20 | 27 | 2 | 1 | VP-20 | 1 1/8 | 78 3/4 |
| 60874016090 | PME-28-10 | 28.58 | - | 30 | 2 | 1 1/4 | - | 1 1/4 | 78 3/4 |
| 60874016100 | PME-32-10 | 31.75 | VP-25 | 33 | 2 | 1 1/4 | VP-25 | 1 3/8 | 78 3/4 |
| 60874016110 | PME-35-10 | 34.92 | - | 36 | 2 | 1 3/8 | - | 1 1/2 | 78 3/4 |
| 60874016120 | PME-38-10 | 38.1 | VP-30 | 39 | 2 | 1 1/2 | VP-30 | 1 5/8 | 78 3/4 |
| 60874016130 | PME-42-10 | 41.28 | - | 42 | 2 | 1 3/4 | - | 1 3/4 | 78 3/4 |
| 60874016140 | PME-45-10 | 44.45 | - | 46 | 2 | 1 3/4 | - | 1 7/8 | 78 3/4 |
| 60874016150 | PME-51-10 | 50.8 | VP-40 | 53 | 2 | 2 | VP-40 | 2 1/8 | 78 3/4 |
| 60874016160 | PME-54-10 | 53.98 | - | 56 | 2 | 2 1/4 | - | 2 1/4 | 78 3/4 |
| 60874016230 | PME-10-20 | 9.52 | - | 11 | 2 | 3/8 | - | 1/2 | 78 3/4 |
| 60874016240 | PME-13-20 | 12.7 | - | 15 | 2 | 1/2 | - | 5/8 | 78 3/4 |
| 60874016250 | PME-16-20 | 15.88 | - | 18 | 2 | 3/4 | - | 3/4 | 78 3/4 |
| 60874016260 | PME-20-20 | 19.05 | VP-13 | 22 | 2 | 3/4 | VP-13 | 7/8 | 78 3/4 |
| 60874016270 | PME-22-20 | 22.22 | VP-16 | 25 | 2 | 7/8 | VP-16 | 1 | 78 3/4 |
| 60874016280 | PME-26-20 | 25.4 | VP-20 | 29 | 2 | 1 | VP-20 | 1 1/4 | 78 3/4 |
| 60874016290 | PME-28-20 | 28.58 | - | 32 | 2 | 1 1/4 | - | 1 3/8 | 78 3/4 |
| 60874016300 | PME-32-20 | 31.75 | VP-25 | 36 | 2 | 1 1/4 | VP-25 | 1 1/2 | 78 3/4 |
| 60874016310 | PME-35-20 | 34.92 | - | 38 | 2 | 1 3/8 | - | 1 1/2 | 78 3/4 |
| 60874016320 | PME-38-20 | 38.1 | VP-30 | 41 | 2 | 1 1/2 | VP-30 | 1 5/8 | 78 3/4 |
| 60874016330 | PME-42-20 | 41.28 | - | 44 | 2 | 1 3/4 | - | 1 3/4 | 78 3/4 |
| 60874016340 | PME-45-20 | 44.45 | - | 47 | 2 | 1 3/4 | - | 1 7/8 | 78 3/4 |
| 60874016350 | PME-51-20 | 50.8 | VP-40 | 54 | 2 | 2 | VP-40 | 2 1/4 | 78 3/4 |
| 60874016360 | PME-54-20 | 53.98 | - | 57 | 2 | 2 1/4 | - | 2 1/4 | 78 3/4 |
O

Build to order

E

End production

S

As long as stock