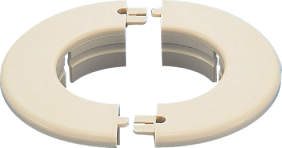 Features
Split construction ensures eas of installation.
Use in combination with FP and FPW series.
Locking tab snaps off to provide holes for extra mounting screws.
Scored line facilitates trimming of flange to fit into tight spaces close to pillar and ceiling.
Specifications
Material ・・・ PP
Color ・・・ White, Ivory
Caution
Joint, fixing and penetration points must be weatherproofed with caulk or putty.
Details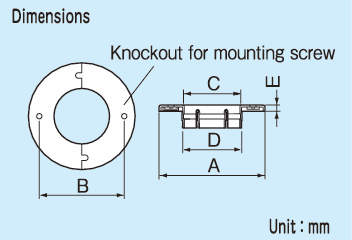 | Code number | Model number | A | B | C(I.D.) | D(O.D.) | E(Thickness) | A | B | C(I.D.) | D(O.D.) | E(Thickness) |
| --- | --- | --- | --- | --- | --- | --- | --- | --- | --- | --- | --- |
| 60874003385 | WC-65-W | 117 | 98 | 62 | 66.5 | 3 | 4 5/8 | 3 7/8 | 2 1/2 | 2 5/8 | 1/8 |
| 60874003352 | WC-60N-I | 112 | 96 | 57 | 61.5 | 6 | 4 1/2 | 3 7/8 | 2 1/4 | 2 1/2 | 1/4 |
| 60874003362 | WC-65N-I | 117 | 98 | 62 | 66.5 | 6 | 4 5/8 | 3 7/8 | 2 1/2 | 2 5/8 | 1/4 |
| 60874003372 | WC-75N-I | 127 | 105 | 71 | 75.5 | 6 | 5 | 4 1/4 | 2 7/8 | 3 | 1/4 |
O

Build to order

E

End production

S

As long as stock