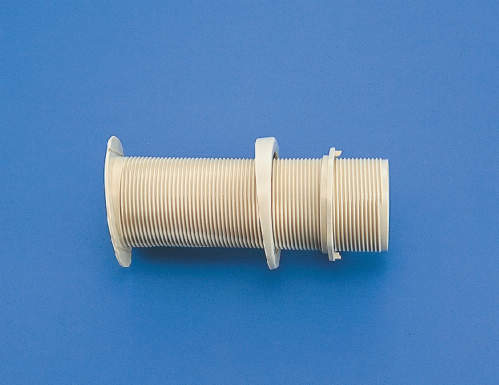 E501-00004
【FPS】FLANGED WALL SLEEVE
Features
Drainage piping is easy due to the slope (approx. 5°) applied to product.
Sleeve is easily secured tightly onto wall by tightening locknut.
Specifications
Material ・・・ PE
Color ・・・ Ivory
Caution
Joint, fixing and penetration points must be weatherproofed with caulk or putty.
Core drill diameter is for the hole with drainage incline (approx. 5°). When drilling hole in the wall, take into account wall thickness as well as slope to ensure that 5°pitch is maintained.
Details

| Code number | Model number | A | I.D. | Core drill diameter | Effective length (max) | F | A | I.D. | Core drill diameter | Effective length (max) | F |
| --- | --- | --- | --- | --- | --- | --- | --- | --- | --- | --- | --- |
| 60874003930 | FPS-85 | 130 | 84.5 | φ95 | 180mm | 23 | 5 1/8 | 3 3/8 | φ3 3/4 | 7 1/8 | 1 |
O

Build to order

E

End production

S

As long as stock