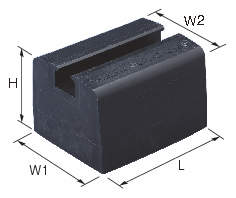 E603-00002
Multiple Use Support System
【CR-D】RECYCROCK CR - D TYPE
Features
Stable with weight (concrete) inside.
With slip-preventive rubber sheet, OK to use on the water-proof coated floor (except some models).
Specifications
Material ・・・ Exterior : Recycled resin (PP, PE) / Interior : Eco-concrete / Rubber sheet : Recycled rubber
Temperature Range ・・・ -10℃~50℃
Color ・・・ Black
Caution
Read product specifications carefully before use.
Details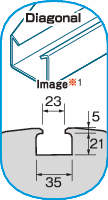 | Code number | Model number | 【ot】Rubber sheet | Dimension L×W1×W2×H(mm) | Weight | Dimension L×W1×W2×H(inch) | Weight (lbs) |
| --- | --- | --- | --- | --- | --- | --- |
| 60817014780 | CR-D0715 | ○ | 150×120×110×70 | 1.4kg | 6×4 3/4×4 3/8×2 7/8 | 3 |
| 60817014781 | CR-D0730 | ○ | 300×120×110×70 | 2.8kg | 11 7/8×4 3/4×4 3/8×2 7/8 | 6 |
| 60817014785 | CR-D1015 | ○ | 150×120×110×100 | 2.3kg | 6×4 3/4×4 3/8×4 | 5 |
| 60817014786 | CR-D1030 | ○ | 300×120×110×100 | 4.6kg | 11 7/8×4 3/4×4 3/8×4 | 10 |
| 60817014787 | CR-D1045 | ○ | 450×120×110×100 | 5.2kg | 17 3/4×4 3/4×4 3/8×4 | 11 |
| 60817014788 | CR-D1060 | ○ | 600×120×110×100 | 5.8kg | 23 5/8×4 3/4×4 3/8×4 | 12 |
O

Build to order

E

End production

S

As long as stock