Air Conditioner 101
Over the recent years summer temperatures across the globe has gotten hotter and hotter. It is becoming unbearable to live without Air Conditioning during the summer months in (almost) every corner of the world.
Heat waves are a regular feature of the current climate system in the European region, with summer temperatures reaching up to 45 Celsius, breaking record highs. It is now more and more common for people living in Europe to buy Air Conditioners for residential and commercial purposes. Unlike before, many Europeans are now considering Air Conditioners as a necessity and will continue to rely on it to combat soaring temperatures. Urbanization, new building construction and increase in disposable income are the other key factors for the rapid growth of the HVAC market in the European region.
So air Conditioners are now part of our everyday life, we see it everywhere, in hour homes, schools, offices, supermarkets and the list goes on. How does air conditioners work in the first place anyway?
The science behind the cool and warm air is that the indoor unit and the outdoor unit of an air conditioner exchanges heat between indoor and outdoor air to control the room temperature. The indoor unit and the outdoor unit are connected by two pipes, and a liquid gas called a refrigerant circulates in the pipes to send cold air for cooling and warm air for heating.
So, now we know how the cooling and heating system works, let's familiarize ourselves with the different fittings of the air conditioning unit.
Here are the 4 main components of an air conditioning unit - evaporator, condenser, expansion valve, and compressor.
The main body of an air conditioner and the outdoor unit play an important role for an air conditioning system to fully function.
However, the plumbing part of an air conditioner cannot be overlooked.
We mentioned earlier that the indoor and outdoor units are connected by two pipes. These pipes are called HVAC piping. In technical terms: HVAC piping connects a condenser to an evaporator.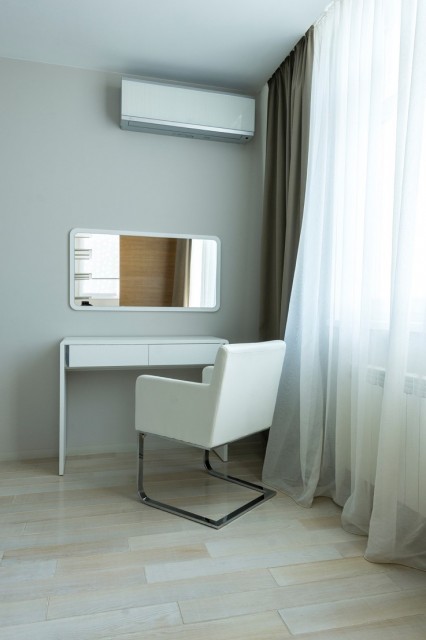 -What is HVAC Piping?
HVAC piping connects an HVAC condenser to an evaporator. In mini-split systems, the piping connects indoor and outdoor units together (and in this case, the outdoor unit condenser supplies the indoor evaporator with refrigerant.)
So basically, HVAC piping is a set of copper pipes that carries HVAC refrigerant from the condenser outside to the evaporator inside, and repeat the loop continuously. The pipes slightly differ in size. There are mainly two types of pipes in an HVAC piping; one is a smaller type, called the discharge line, that is used to carry high-pressure, cold and dense liquid refrigerant into the evaporator to absorb heat. The other one is a bigger tube, called the suction line, which is used to send low-pressure, hot gaseous refrigerant back to the condenser where the heat can be rejected. The refrigerant and gaseous vapor in the lines is recirculated continually, providing either heating or cooling depending on the flow direction. Since these systems are pressurized which means that the piping in HVAC systems is closed, where refrigerant should not enter or leave the system at any point unless there is a leak which you would need a qualified technician to fix up.
As we mentioned above, piping connects the outdoor and indoor units together. The outdoor unit, which is the condenser, will supply the indoor unit, which is the evaporator, with refrigerant to keep the units working efficiently and cohesively. In the cases of a system including a heat pump, this flow would be the exact opposite, providing heat to a residential or commercial space.
While residential applications with one indoor unit may only need to use one piping, multi-zone systems for much bigger homes might have multiple indoor units and separate piping for each individual unit will be required. With some multi-zone systems, you might even need to place a branch box between the outdoor and indoor units, and it will also require its own piping that is connecting to the outdoor unit.
There are many different sizes of piping, and the size depends on a several factors: the brand of mini split air conditioner, the distance between AC units, the size of condenser and the number of indoor units required. The piping itself can also be made in various sizes to fit the mini split air conditioning system used for a residential or commercial space. Inaba Denko offers a great variety of different piping diameter sizes, making sure that the piping will fit onto any kind of unit.
Inaba Denko manufactures Paircoil, a paired copper insulated piping that are available in various sizes. It is constructed of high-quality insulated copper tubes and made of flame-retardant industrial grade, cross-polyethylene insulation that protects piping from outdoor weather conditions. At half an inch of insulation thickness, Paircoil meets IMC & IRC codes, making this the ideal choice for your next installation. This labor-saving product allows for a single-run installation of both lines (Please check your installation guide for proper sizing requirements for your HVAC system. In general, HVAC systems with greater BTUs will require a larger diameter piping.)
When you are planning the placement locations of your indoor and outdoor units, determining the maximum piping length is very important. Be sure to take account of factors such as corners, bends, rises and thickness of the wall. Paircoil is easy to install and comes with length markings for fast, accurate measuring and cutting.
---
What is Piping Cover Trunking?
You might have already heard of Line Hide, a product that is designed to protect and conceal the copper piping and control wiring of mini split HVAC system.
Piping cover trunking is also a product that is designed to protect and conceal HVAC piping. Piping cover trunking is self-explanatory; Covers for AC piping, drain lines and control cables for the purpose to conceal and protect. Piping cover trunking really is just another way to refer to a line hide. People are using these two names interchangeably, as they are referring to the same type of products which are made to conceal and protect piping, drain lines and control cables of residential air conditioning systems from outdoor weather, or other potentially damaging contact elements.
The reason why it is recommended to have piping cover trunking installed is because if the piping, drain lines, and control cables are exposed to direct sunlight, rain and wind etc, it may cause damage. Now, this will be a problem because if there is some type of damage to the piping, the air conditioner may not function properly. As an effective measure for that, it is recommended to attach a cover to protect the piping. For many, installing Air Conditioners in homes and offices are considered as an investment and you want to protect it from breaking down as repair costs can also add up. Some people choose not to install piping cover trunking and use piping tape instead, in this case the tape may become worn out in about 3 to 5 years and the heat insulating material wrapped around the pipe may become visible which will lead to potential damage.
Piping cover trunking not only protects the piping from damage, but it can also help to clean up the look of exposed pipes for your homes and offices. Having exposed pipes coming out of your AC unit is not aesthetically pleasing so using piping cover trunking can improve the appearance.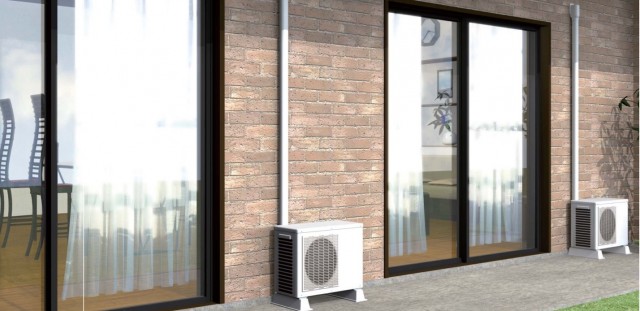 ---
Types of Piping Cover Trunking
Inaba Denko Line Hide cover systems for piping provide an unlimited combination of modules. Our Slimduct SD piping cover trunking is made of the highest-quality PVC to help protect and conceal any wall-mounted piping. Inaba Denko also carries piping cover trunking systems for commercial use, such as Slimduct RD series. Commercial Slimduct RD series uses galvanized steel, which is designed for multiple piping trunking.
Inaba Denko offers a wide variety of piping cover trunking products to protect and conceal the piping and drain lines that are used in both residential and commercial spaces. One of our most popular piping cover trunking products is Slimduct SD Straight Duct, which is made from high-grade PVC and is available in multiple diameters to meet customer needs. Slimduct SD is weather resistant, UV stabilized, and using flame retardant PVC that can handle temperatures from -20°C to 60°C. Last but not least, Slimduct SD comes in several beautiful colors: white, ivory, gray, brown, and black. You will be able to choose the right color for your home or commercial space.
For commercial installations, Inaba Denko has Slimduct PD Straight Duct and Slimduct RD. Slimduct PD is considered the residential version of Slimduct SD, as it is made of high-grade PVC materials and comes in a great variety of different sizes to fit different commercial buildings. Slimduct RD is made of galvanized steel and specially designed to carry several piping within each duct, providing cooling and/or heating to large commercial places.
For Residential use
Inaba Denko offers piping cover trunking products that are perfect protection for residential mini split HVAC systems as it is designed to prevent any environmental damages to the mini split piping. The piping cover trunking also has another great benefit, which is simply to hide the piping and drain lines, which can be visually obstructive to the exterior of a residential home. The piping cover trunking system offers multiple module fittings as well, allowing easier installation in the case of obstacles or a vertical multiple run piping installation.
-Product : SLIMDUCT SD (For Outdoor units)
Slimduct SD, our most popular, long-selling flagship brand, is constructed from high-grade PVC to conceal wall-mounted piping for residential units.
"Slimduct SD" series is piping cover trunking that combines high durability and attractiveness with a wide variety of corner fittings.
By using Slimduct SD, the AC piping and/or cables are stored neatly but will not ruin the aesthetic of the homes/building, adding a clean finish.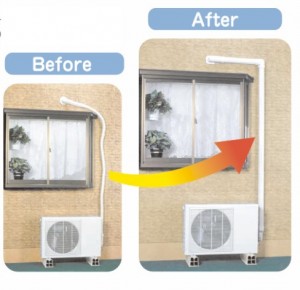 The piping cover trunking is offered in several different sizes, ranging from 77mm, 100mm and 140mm product. Slimduct SD is also available in several different colors, making it easier for you to choose the perfect cover to make the piping on the exterior of a residential home visually pleasing.
Slimduct SD is UV stabilized, and using flame retardant PVC with a graded weather resistance of JIS D 0205, and also with a SWOM test conducted over 2,000 hours making our product one of the highest-quality systems available on the market.
Long Lasting and Durable
Made with weather-proof, long lasting durable material, it will keep the ''brand new'' look even after years.
It is also made with flame retardant materials.


The mounting screws are made of stainless steel, which is resistant to rust.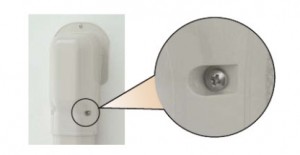 When using tape instead of piping cover trunking, make sure you are aware that the tape may be damaged due to deterioration over time and the piping may be exposed, spoiling the appearance and reducing air conditioner capacity.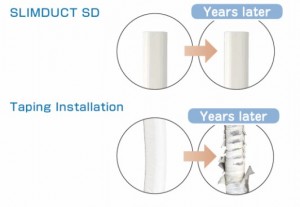 Trusted
Slimduct SD is a heat insulating piping cover trunking that meets the standard specifications for public buildings developed by the Ministry of Land, Infrastructure, Transport and Tourism. It has been adopted in many public work projects.
Easy to install
Slimduct SD is divided into two parts, a bottom part and an upper part (the lid), and it is very easy to install because all you need to do is attaching the bottom part to the wall surface, set the piping and wiring, and then attach the lid to close it.
Adjustable
The drain hose outlet can be made easily along the cut line by cutting the required part with a saw and bending it in.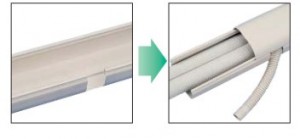 The mounting holes are at a pitch of 100 mm. If you push out the half-pulled hole with a screwdriver, you can easily make a hole.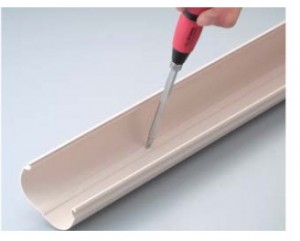 We offer a wide range of colors, size and fittings available to accommodate your needs.
Color
A variety of color that match various wall colors.


Size
Different size variations to match all types of air conditioners.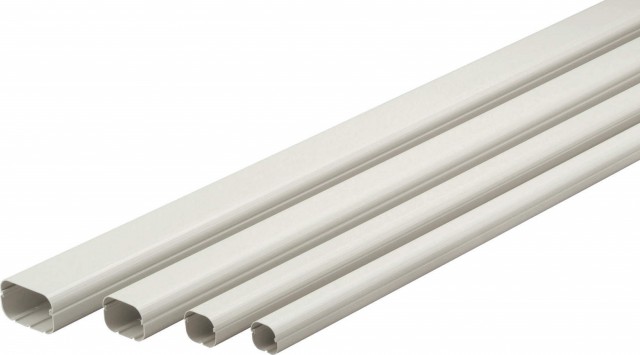 Fittings
Variations of fittings available.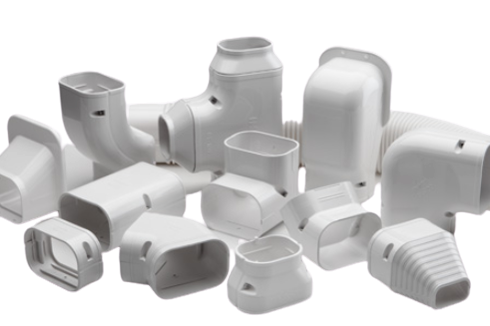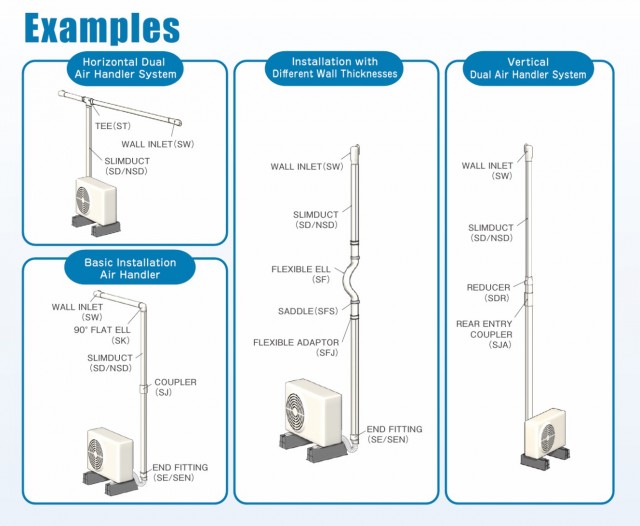 For Commercial use
-Product : SLIMDUCT PD
SLIMDUCT PD (provides maximum strength and accommodates larger piping)
It is a new floating method that is different from the conventional Slimduct.
Its light and durable, and because it is different to the conventional racking process, it will not easily deform.
Functional & Professional Appearance
Protect any surface mounted piping installation as well as piping between the condenser and the RD trunking system.
Round profile provides maximum strength and accommodates larger piping.
SLIMDUCT PD enhances the appearance of any VRF/VRV application.

Innovative New Design
Provides easy mounting and elevates piping from wall surface.
Light & Tough
UV & weather resistant heavy duty PVC construction resists deformation.
Easy Installation
All trunking and fittings disassemble for ease of installation, and mount with commercially available standard wall mounted pipe brackets.
-Product : SLIMDUCT RD
SLIMDUCT RD (The exterior of any building will be enhanced by the sleek appearance of the finished installation)
Slimduct RD is a piping cover trunking mainly for the purpose of multi-system storage and protection of coated copper pipes for air conditioning. It is aesthetically pleasing due to its slim shape, it is highly durable and weather resistance, and it can be assembled easily without using special tools.
Beautiful Finish – Sophisticated
The high quality finish of SLIMDUCT RD series blends in well with commercial buildings. The exterior of any building will be enhanced by the sleek appearance of the finished installation.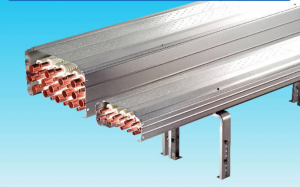 Excellent Performance
Compact
Because of its compact design, SLIMDUCT RD requires less space than a conventional racking system.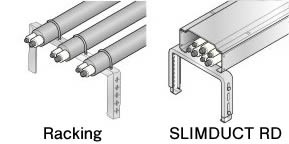 Easy Installation
No special tools are required to assemble and connect SLIMDUCT RD Series.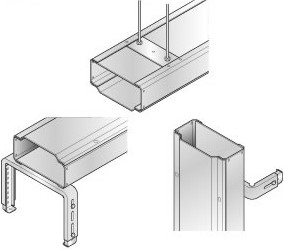 Multiple Applications
Use of the many fittings available such as risers, vertical mountings and underslab mountings enables SLIMDUCT RD to be easily customized on site during the installation process.
Long Lasting Rugged Protection
Load Capacity
SLIMDUCT RD, WALKWAY TYPE (RDW) has the anti-slip round protrusion surface. This permits maintenance personnel to walk on the ducts without damaging them or the piping during routine maintenance of any mechanical equipment on the rooftop.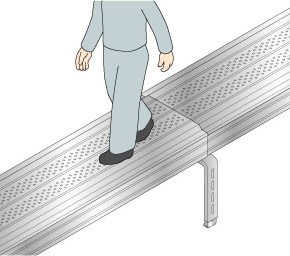 Durability & Weather Resistance
SLIMDUCT RD Series is fabricated from "ZAM" which offers superior resistance over stainless steel even in highly corrosive atmospheres such as sea air.
Scratch / Abrasion Resistance
The coating layer contains a higher proportion of Magnesium and is more rigid than that of a standard galvanized or Galvalum sheet. It offers superior scratch/abrasion resistance as well as advanced corrosion resistance to ensure that any scratches will be covered by a zinc protective film in a few months.
【All you need to know about Piping Cover Trunking|INABA note vol.2】